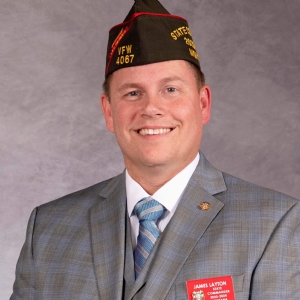 Comrades,
This year is racing by, and our Department continues to drive forward despite the many challenges we have already faced. As I think about our purpose and mission as an organization, I am reminded that the Veterans of Foreign Wars is more than just a club for veterans to gather and tell old war stories, our organization stands as a guardian of those who have served in defense of freedom. Freedom from tyranny, freedom from oppression, and most importantly freedom of though and expression. We are comprised of a diverse group of veterans from a wide array of backgrounds all coming together for a common purpose.
At its core the VFW is a lifeline for veterans offering a multitude of veteran's advocacy ranging from financial aid, emotional support, to community engagement. The continuation of these efforts relies heavily on the strength of our membership base. An ever growing and engaging membership ensures a solid and able network of veterans ready to meet the evolving needs of veterans.
Membership recruiting and retention aren't just administrative tasks to reach an arbitrary number, they are the lifeblood of the VFW's ability to fulfill its mission. A thriving and active membership translates to increased advocacy and influence in the halls of Congress, expanded community outreach, and most importantly a more significant impact on policy decisions that affect our veterans.
Commander-in-Chief Duane Sarmiento set a goal for each department to be 102% for the year. The importance of this goal cannot be undersold. If we are to continue to garner the influence and platform we currently have for veterans advocacy, it is essential that we not just maintain, but grow our membership back over one million members nationwide. I am proud of our Department and because of the confidence I have in each of our posts I promised Chief Sarmiento that we would reach 102%. Department of Montana has consistently risen to the challenge before and I am confident we will meet the challenge this year, but it will take a concerted effort from each of us. We need your help to reach our Department goal of 102% by December 31, 2023.
As the holiday season approaches, we must redouble our efforts to remember and support veterans. For many of our comrades who served, this time of year can be particularly challenging. Financial strain, loneliness, and the invisible scars of war can weigh heavily. Part of our retention efforts must be to organize initiatives and support networks to ensure that no veteran feels forgotten during this season of celebration. Our community is stronger together.
In conclusion, the VFW's unwavering commitment to membership, remembrance, and support encapsulates the essence of our legacy of service. As we approach this holiday season, let us not only express gratitude for the freedoms we enjoy and for those who made it possible but also actively contribute to our community and the VFW's mission. By participating in membership initiatives and reaching out to less fortunate veterans, we become instrumental in preserving our legacy of service and ensuring that no veteran is left behind. May the VFW's call echo loudly. Join, remember, and uplift—because the spirit of service knows no season.
"Make Service Your Legacy"