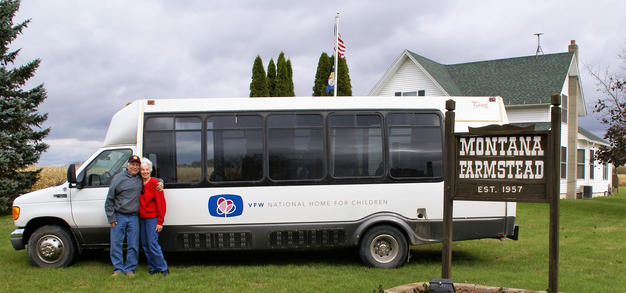 Doug Braun of Columbus, Montana, says he was inspired by a recent visit to our community to donate a 23-passenger bus to the National Home. Doug, who serves as chaplain of VFW Post #4762, first learned of the VFW National Home for Children through his post. He got the chance to tour the community two years ago, when he visited the National Home while in Michigan with a friend. Doug remembered seeing all of the vans and golf carts and asked his tour guide, Facilities Director Todd Marriott, what they were for. Todd explained how they use them to give tours and transport people visiting the National Home campus. Right then he thought, "You could really use a bus."
Doug, a retired Union electrician, describes himself as a Christian man with a "saucy mouth". During Vietnam, he served in the Navy, on the USS Enterprise – N (Nuclear) along with 700 other sailors. Each year they have about 90-100 sailor gather for a reunion, and this year, Doug hosted. He purchased the bus from an online auction and used it to help transport reunion attendees. Two weeks later, he was in possession of a bus he no longer needed. Then he remembered his conversation with Todd. He called the National Home to ask if they would like the bus. Their response was an emphatic "YES!" After putting in new batteries, belts and a new alternator, he mounted a plaque inside the bus, put the National Home logo on both sides and drove 1800 miles to personally deliver it to the National Home.
Doug grew up "dirt poor" with a dad who always dreamed of opening an old car museum. Sadly, his father died before he could realize his dream. So Doug opened Archie's Antique Auto Museum, named after his father. He was in Michigan recently to pick up his 18th Ford Model T from Ann Arbor. Ford built Model T's there from 1908 to 1927, and Doug has one for every year starting in 1909.
Doug hails from the VFW Department of Montana, which has long supported the National Home. The Montana Farmstead, which now serves as the hub for the National Home 4-H program, was constructed in the 1950's as a gift to the National Home from the members of the Department of Montana and its Auxiliary and is still maintained by the Department today. In fact, the Department recently completed a special project to build a much needed new metal barn. They also raised funds to re-side and re-roof the other two barns on the property, lay new gravel in the driveway and pour new concrete for the parking pad at the Montana house, giving the whole property a fresh look.
Thank you, Doug for your generous donation to the National Home.